Advertising
Design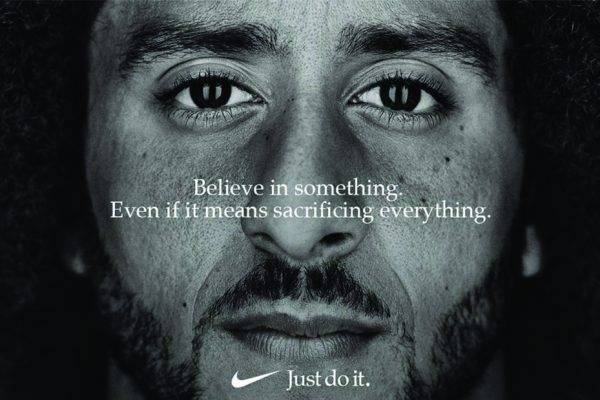 The point of good advertising design is to get people talking. That can be done by making something inclusive like Coca-Cola's "A Coke for Everyone" campaign that included just about every type of person. Or it can be something divisive like Nike's "Just Do It" ad featuring Colin Kaepernick that the Americans couldn't stop talking about. Or even Air NZ's run of safety videos that range from crazy to absurd. They're effective because they're memorable—even though for some, it's like the memory of the time their older brother tricked them into drinking wood cleaner.
Some of the designs are simplistic, others are complex. The more complicated ones aren't necessarily better either; The Kaepernick ad didn't even have an accompanying video and is credited by some experts for Nike's $6 billion USD in sales that followed weeks after the ad first ran. Not bad for a picture with a few words on it.
Wow, design sounds pretty important!
Yes. Yes it is. And because of that, getting everything down right can take some time. Even parts of your advertising design that seem small, like the pictures on the back panel of one of your pamphlets, can take time to plan, design and position just right. We use a whole range of visual design techniques, from focal points and perspective to grid-based design and even the golden ratio.  It's a lot more complex than a simple drag-and-drop!
Everything we make is customised specifically for your brand and the best design is usually made from scratch. It's like a homemade giant sausage roll of the digital world. And once you have a bite, you're sure to want more.
Thankfully, we have a whole team of specialists, the value-size family package. Our experienced, qualified graphic & web designers work alongside our dedicated copywriter, photographer, web developers, and marketers. And together, that means you get an awesome custom design and unique written content that all flow smoothly into your final ad design.
How do you decide on a design?
The design of your advertising goes hand-in-hand with the advertising campaign strategy. Depending on your goals, we might decide to create a simple image. Or a moving gif might be better. Maybe a short video? You get the picture; or you will, once you work with us and we hand you your finished product.
But don't worry about getting something you don't agree with; we involve you throughout the process. Once you approve, we go onto the final phases and implement it into the finished product and immediately start on the ad campaign. So if you're thinking of doing some advertising, stop by us first for a chat. Ad-hoc one-off advertising seldom bears fruit, so with a coordinated effort, we'll create an overall winning strategy so you can see firsthand how we can make you Southland's Kaepernick–of advertising, not American Football.