Selling online: Shopify vs WooCommerce, which platform is better?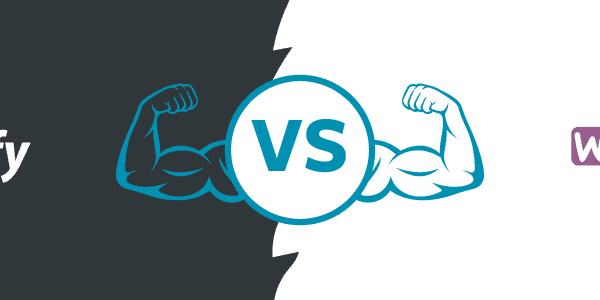 If you've been looking to sell products or services online, you've probably heard of Shopify. Claiming to be the "Best eCommerce Software for Your Business", can this Canadian company back up its statement?
Although Shopify gets its name out there and does plenty of advertising, it's actually only the 2nd most popular eCommerce platform. So what's first? That crown rests with WooCommerce, a plugin (a program you can download to add extra features to your website) for WordPress that integrates easily into any WordPress site.
So in the battle between Shopify and WooCommerce, who wins, and who's left holding the peel of the second banana?
Shopify
Shopify's goal is to do the hard work for you when it comes to setting up your online store. One of the biggest benefits of the platform is that you don't need to have tech skills at all. You can get an online store up in a matter of minutes with their easy-to-use drag-and-drop editor.
However, if you want the edge in getting found on Google through Search Engine Optimisation tools, Shopify's limit of customisation can hurt you here. It can also be difficult to export your posts and information if you decide to try out another platform. You can also run into scaling issues if your business starts to grow because there are limited options for customisation.
While Shopify does have a "Lite" plan that's only $9 USD per month, it comes with practically no features and has to connect to an existing website. Regular plans start at $29 USD per month (and 2.0% fee on all sales) and tops out at $299 (and 0.5% fee on all sales).
Some other features of Shopify include:
Website hosting is part of the package.
Drag-and-drop customisation.
24/7 Support.
Abandoned cart recovery.
Unlimited file storage.
When should I use Shopify?
If you're okay with adding products on your own and want a good-looking, easy to use store and aren't worried about extensive customisation, Shopify could be a good choice for you.
WordPress with WooCommerce
The best thing about WordPress is that you have endless customisation options to make your store look and act exactly as you want. The bad news… There are endless customisation options–so web development skills are a must. Learning how to use WordPress like a pro takes time, some people even make a career out of it!
WooCommerce is a plugin that plays off the endless customisation so you can build a store exactly the way you want. You can have custom products, pages, checkout systems, sales funnels, whatever you want. You're only limited by the capabilities of the builder, so getting a skilled web developer is important!
However, using WordPress with WooCommerce means that you'll need to have a WordPress website already. You won't be able to simply download WooCommerce and get a store ready from nothing the same day. Because of this, it can take some time to get your store up and going, but it will be powerful and versatile once it is.
WooCommerce is free to use and costs nothing to set up. Some plugins like tracking abandoned carts or suggesting edits to make your website rank better on Google come with a cost, but you can pick and choose to get what you want, with plenty of free options out there. To get the best add-ons for your site, it pays to sit down and have a chat with a professional web developer to discuss your options.
Some other features of WooCommerce include:
Search Engine Optimisation tools.
Free website backup options.
Thousands of plug-ins through WordPress.
Custom fields for products.
Use any payment gateway.
Easy integrations with other software.
When should I use WooCommere?
If you want the freedom of customisation, the ability to scale for large operations, and the largest selection of add-ons and plugins, WooCommerce is the right choice for you.
Who's the winner?
If you want to build an eCommerce website yourself, loads of spare time, and limited tech expertise, Shopfiy is the winner. For almost everything else, WooCommerce is the winner
With WooCommerce, you have the endless options of WordPress, meaning if you have your site professionally-built, it will be completely customised. No one else will have one quite like yours. And if you're looking into doing any advanced features like adding uncommon payment methods or translating your store into multiple languages, WooCommerce gives you the easiest, best, and most options.
Still not sure? Book a FREE website consultation
To find out information on other eCommerce platforms, we have an article you may be interested in Which eCommerce Platform is right for me?