How is Website Health Score calculated?
What is Website Health
Website Health Score is a method we use to Audit a website. Your Website Health Score is a critical part of your website performance and is based on the number of your total errors and total warnings that were found on the pages crawled on your site. Errors have more impact on your Site Health Score than warnings, so it is recommended that you address errors first if you can.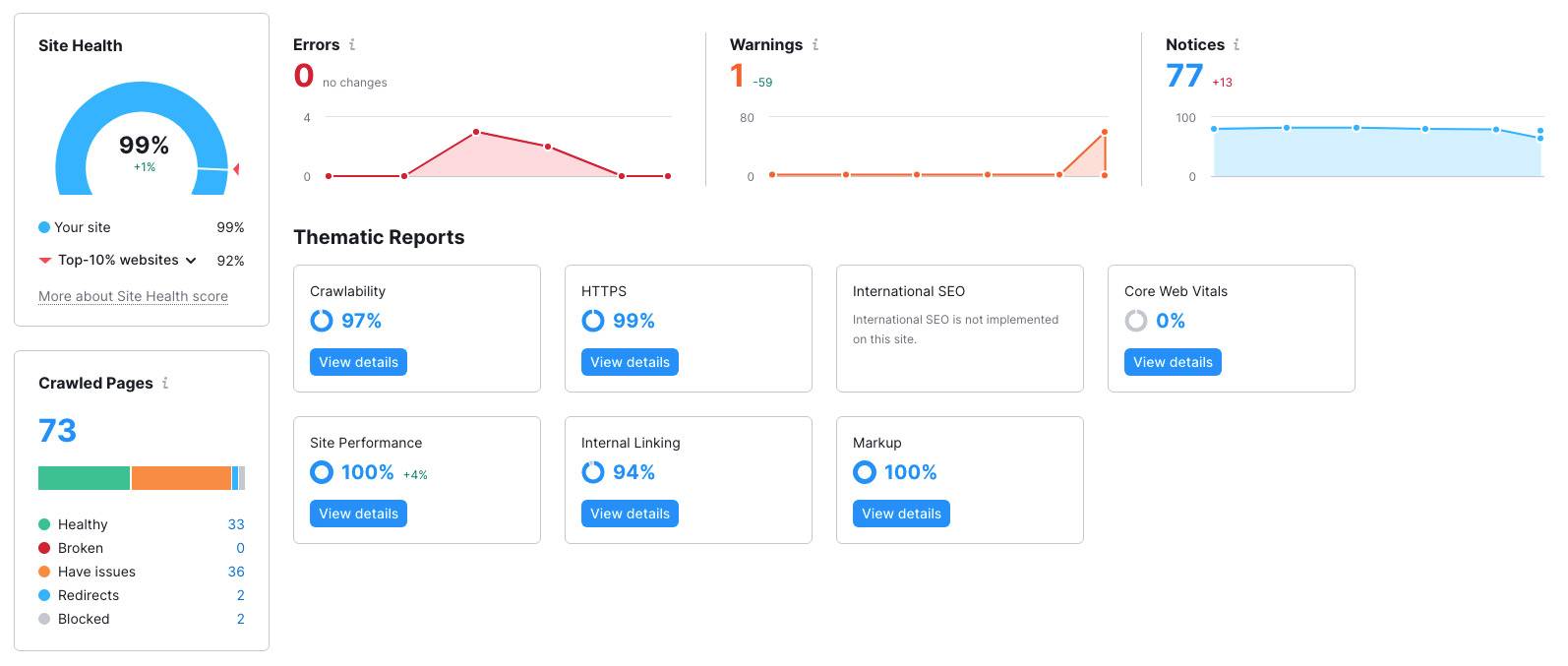 Our website Audit has over 130 checks — types of issues the tool checks for. The type of check found on the site, the number of unique checks found on the site, and the number of issues fixed for one check matter. Fixing all issues related to the same check (for example, all Broken links fixed) will have an effect on the overall health of your site higher than fixing two errors from two different types of checks (for example, Duplicate content issues and Broken links).
Your Site Audit will also provide a list of notices.
As far as notices go, you will still want to fix these issues as they still impact your SEO, but remember:
errors will have more weight on your Site Health Score compared to warnings and notices. Make sure you are addressing any major issues your site may have (errors) so that you can ensure you are making the best efforts to help lower your overall score.
Excluded Checks
If you exclude any check from your audit, the problem will no longer appear in your report, and we will no longer check for these issues in future crawls. At the same time, the audit will no longer take into account any of the instances of excluded checks when calculating your Site Health in the future crawls.
You can track the total number of errors, warnings, notices, or specific issues that Site Audit finds on your site over time with the Compare Crawls and Progress reports in the tool.
What the Website Health score DOES NOT depend on
The Site Health Score doesn't depend on the number of pages crawled on the site, since the frequency of each error's occurrence is what accounts for the score. However, the larger the site, the more attention you should pay to issues relevant to large sites, such as internal linking and site structure.
Other factors on Site Health Score
Because of the way our bot navigates a website through hyperlinks from the main page, each crawl can find new issues on the same site. Therefore, we recommend that you crawl a website in its entirety (as long as you have the crawl budget). At the same time, you can also set your audit's crawl source as Sitemap or a file of URLs.
There may be times when a crawl finds a new issue (pages with slow loading speed, for example) that has a strong overall effect on your score at the same time that you cleaned up some of the other less significant ones (such as fixing URLs that are too long). In such a case, your site's total number of issues could go down but your score would also go down.