How much does it cost to host a website?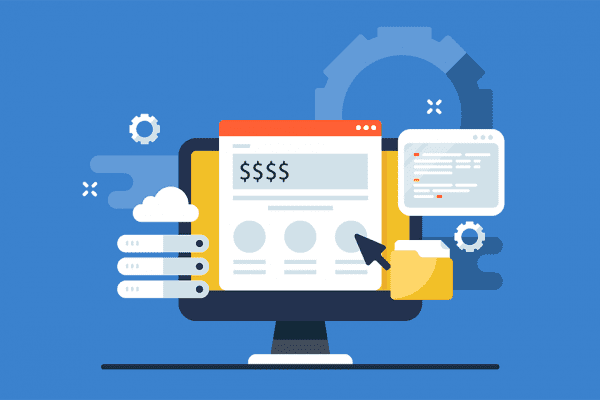 Website hosting is a necessary part of running a website. By "necessary" we mean that it won't function without it and is an absolute requirement. It also comes with its own set of costs. Website hosting can cost as little as $8 per month and if it includes a comprehensive maintenance package – at the high end can be in excess of $1000 per month. So with such a big ballpark, how much should website hosting really cost? And is just hosting actually what you are receiving if you're paying towards the higher end of the spectrum? Are you comparing apples with apples? How do you know you're getting the best solution and not being ripped off!
The simple answer is, the cost to host a website 'depends'… It depends on whether your website is uploaded to a server and left to its own devices or if it is proactively maintained and if so, what additional services or value are you getting from your provider?
Things pricing to host a website can depend on are:
The type of hosting service/package
Web Server Quality
Web Server Location
Self Managed – If you're hosting your website yourself and responsible for any and all updates/upgrades
Managed Hosting – If a website is hosted on your behalf, by a marketing or web design company – And what you are getting for this service
If server upgrades are included – like anything tech, software and hardware outdates.
If you are actually also getting proactive maintenance on the site and the server
And more…
Web hosting is a complicated beast and unless you're into IT (like REALLY into it) it's something that you'll probably never actually understand completely. But since your website can't exist without it, we'll attempt and explain briefly what it is and why it costs what it does in this article.
What is Website Hosting?
When a website is hosted this means it is stored on a server. A server is basically a computer. This computer is where your website "lives". When you type in a website, what happens is that it gets the information from that server computer and then shows it on your screen. This means the quality of the server itself can dramatically affect the performance of a website. The power of the server (or computer) means that the faster it will go, the better your website will perform. This is just one factor in website performance, but it is an important one to understand.
And just like computers, Servers come in all sizes, and can be configured in a number of ways too. The power, speed and configuration of the server your website is on is defined by the 'type' of hosting your may have.What are the types of website hosting?
As mentioned above the type of website hosting or the configuration of the server can play a very important role in your website performance and also dramatically affect the cost to host a website. Three main types of hosting you might come across are Shared Hosting, VPS Hosting, and Dedicated Hosting.
Shared Hosting
Shared hosting is the cheapest form of hosting because you are literally sharing the load with a bunch of other websites. Think about the cost of flying a plane. The more people that can fit on the plane the cheaper the ticket becomes. This is because you're sharing the flight with (in some cases) hundreds of other people.
The downside of that is you don't necessarily know who you're sharing the flight with. Or going to be sitting next to. If Google is the moderator of aviation law, and they decide one of those passengers is unsavoury then this could also affect the quality of another website on the same server. It gets tarred with the same brush.
Cloud Containers
Cloud Containers primarily offer a huge amount of control for developers. (So this is often our first choice for hosting clients websites). It means we can do more, faster, and maintain up-to-date infrastructure without too many technical headaches – both for us and you…
VPS Hosting
VPS stands for Virtual Private Server. This means that a website can be partitioned off and essentially separated from the other website on the physical server. In saying that though each website may still need to use 'shared resources' Let's go back to that flight we spoke about above. VPS could be compared to travelling in First class. You're still using the same aircraft, the same fuel and crew for example, but you have more room of your own. Even though you're on the same flight, you're "on the other side of the curtain", separated from the rest.
Dedicated Hosting
Dedicated website hosting, is just as the name suggests. Instead of you being on a plane, you own a private aircraft. You have the whole entire thing to yourself. The size of the plane may vary depending on your requirements, and this too will affect the cost of hosting a website. As expected, dedicated hosting is the most expensive option.
How does Server Location Affect Website Hosting Costs?
We all expect websites to load lightning-fast these days. In fact, If your website takes longer than three seconds to load, you could be losing a lot of your website visitors. here's 11 statistics you need to know.
Whilst websites themselves need to be also built and optimised well to begin with, they need to be maintained too (something the Website Performance Booster can also help with can dramatically help with). However, the distance between your site visitors and your server can also affect this dramatically too.
If we go back to our aircraft analogy, and think about the time it takes to fly from New Zealand to Australia, versus the UK or US, then it stands to reason that server location can affect your website speed and in turn the cost to host a website.
Shorter distances between you and the VPN server improve internet speed. For example, if you're in the UK and connecting to a server in Australia, it is a substantial distance for a data packet to travel. So the nearer a server is located, the faster the internet speed will be.
So what is a reasonable price to pay for website hosting?
As mentioned in the first section of this article, Website Hosting is complicated. There are literally hundreds of variables. The most important thing to understand with websites, in general, is that they are no longer an online brochure. A website is a sales tool. And these days, a website is like a staff member – one who can sell 24/7. A website is an investment and always a work in progress, and this should be reflected in what you are prepared to pay to host and maintain it. If you want it to perform at its peak it needs time, money and energy invested.
You wouldn't own a private jet, or expect to travel on a plane and expect it to run on 91 Octane! You need the right mix of fuel to keep it running well in order to safely reach your destination (your goals). And your website should be no different. You should be consistently setting new goals and objectives for your website to achieve – just like your staff!
At Back9 we are not a web hosting company. Therefore we only provide a managed hosting service coupled with website and server maintenance. We have found this to be the best solution for the broad range of clients we have websites hosted for.
So what is a reasonable price to pay for website hosting? Well, again that depends 100% on you! To give you an idea, our packages at back9 for website hosting and related services, range from $54 + GST per month – 199 + GST per month (with discounts for paying quarterly) depending on requirements. This offers server maintenance and upgrades, plugin updates and then upgrades (at the higher level) quarterly website performance maintenance too. And if that keeps your website performing at its peak then that is priceless.
What do I get with my Back9 hosting package?
It's fair to ask about Website Maintenance and Hosting. And What Are You Actually Paying For? So the cost of hosting a website with us includes the cost of that lease (or a portion thereof) and depending on the hosting package you choose, our service can include:
Hosting set up that suits your website and business
SSL certificate, set up and renewal
99% uptime
Security updates and website data backups
Server upgrades as and when required (generally every 2-3 years)
website theme, or plugin upgrades, as required,
website audits/testing and repairs and maintenance
Updates to website content as required
And more.
To find out more about the specific hosting packages, click the button below or get in touch