SharpSpring and Salesforce: An Honest Comparison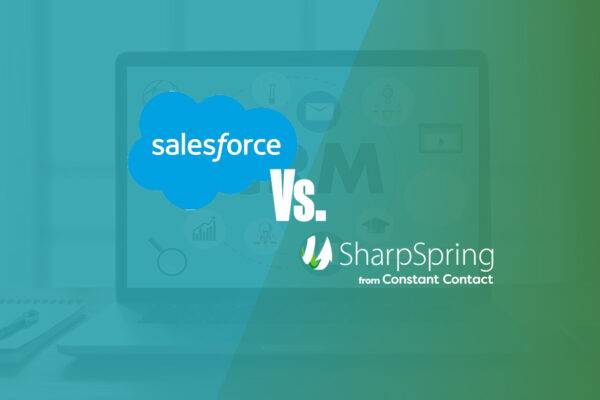 Are you business owner or marketing manager looking for CRM software? If so you probably want to help streamline your operations and increase efficiency. And you may be considering either SharpSpring or Salesforce. Both of these platforms offer powerful features that can help businesses succeed. So in saying that, it is important to understand the differences between them. Let's take a closer look at both SharpSpring and Salesforce to see which one is the best fit for your business needs.
Pricing
When comparing SharpSpring and Salesforce, pricing is an important factor to consider.
SharpSpring offers 4 plans ranging from $450/mo to $1,150/mo, depending on the size and scope of your business. All plans include unlimited users and standard features such as email marketing automation and lead management.
With Salesforce, there are 3 tiers of pricing ranging from $25/user/mo to $300/user/mo. The more expensive plans include additional features such as AI-powered customer service tools and advanced analytics capabilities.
SharpSpring and Salesforce Features
In terms of features, both SharpSpring and Salesforce offer comprehensive solutions that can meet most businesses needs. Both platforms offer lead management, contact management, email and marketing automation, website tracking, reporting & analytics capabilities, customer segmentation capabilities, and more. However, one key difference between the two platforms is that SharpSpring includes a built-in webpage (landing and blogs) builder. While Salesforce does not have this feature included in their plans. This means that with SharpSpring you can easily create custom Landing pages without needing any coding expertise or technical knowledge – something that could be a major advantage for small businesses that need to quickly create professional websites without breaking the bank.
The final Choice
Ultimately when it comes down to choosing between SharpSpring and Salesforce it all depends on your business needs and budget. While both platforms offer powerful features that can help businesses succeed in the long run they do have different pricing structures with slightly different features available at each level so it's worth doing some research before making an investment in either platform. It's also worth noting that both companies offer free trials so you can test out each platform before committing to a plan – giving you peace of mind knowing you're making an informed decision about which platform is right for your business needs!