9 Reasons Why you should use a professional copywriter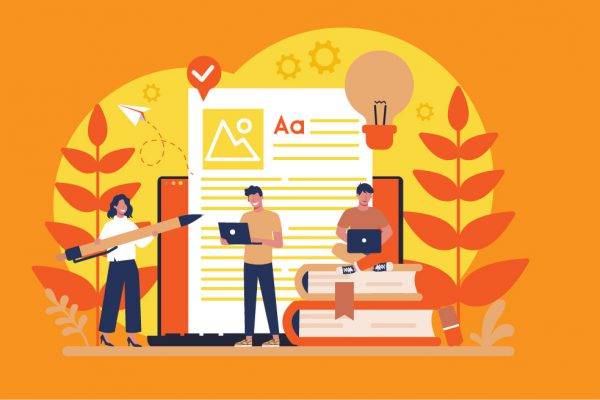 Whether you're building a new website, want to extend your reach on social media or are eager to create emails people will actually need, there's a lot of writing to be done. But are you or someone in your business the "write" person for the job? Or should you hire a professional copywriter?
It might seem like there's not much point in working with a copywriter. After all, most of us can write, and spell-checkers take a lot of the worry away. However, spelling and grammar are only one benefit of using a professional copywriter. So why should you consider using one fo your marketing efforts?
1. Top-level researchers
Copywriters write a lot. One of the most essential parts of the writing process is doing research and providing accurate information. Many copywriters write for a variety of clients, in all kinds of industries. Yet, they have to sound like an expert in each one. How do they possibly do that? Through research. Lots and lots of research. Facts are verified, claims are double or triple checked, and obscure information tracked down. Research is an essential skill of any skilled copywriter so that they can find the information they need, verify that it's legitimate, then reword it in a new way for a specific audience.
2. Large word counts aren't a problem.
When you were in school, did you have trouble meeting minimum word counts? Did you prefer multiple choice exams over essay questions? For most professional copywriters, the opposite is true. If anything, they were more worried about writing too much! Yoast, a leader in helping people get found on Google, suggests blog posts of at least 1000 words. HubSpot takes that a step further and recommends 2100-2400 words (like this article!) To put that in perspective, that's about 4-5 pages in Microsoft Word. Single-spaced. 8-10 pages for double spaced.
3. Masterful communicators
Some people have trouble putting their thoughts on paper. The ideas inside might be brilliant, but conveying that brilliance to other people might be a challenge. Copywriters tend to have an ever-growing, expansive vocabulary and choose the right words for the specific audience who will be reading the work. Those words might include slang, idioms, or even technical jargon–words and phrases that the copywriter will learn through the research process. Different audiences react differently to word choice, and it's the copywriter's job to identify which words will appeal to the majority.
4. Help you avoid duplicate content
Google isn't a fan of copying and pasting from other sites. If you copy something from one site and post on your own, Google will likely give the credit to the original site. That site will be the original author, while yours will be considered duplicate content. Copying and pasting means that Google will only show one version in the search results, so both sites can be hurt by it. But what if what you want to put online already exists somewhere online? A copywriter can help you rework that content and make it your own. The new version will be made in your style and also have an increased chance of ranking well in Google.
Duplicate content penalties apply for your own site too. You might think that if you want to talk about the same product or service in two or more different places you can just copy it. Unfortunately, some bad players used to do that to stuff their target keywords all over their site to trick Google years back, so now Google punishes instead of rewarding that behaviour.
Instead of copying the exact same thing, you should alter the wording so that it has the same message but isn't a straight copy-paste. Professional copywriters can do this easily through writing, and ones who are also tech-savvy can add signals like canonical links to tell Google that the content on two pages is identical and to only count one page. This can be useful in many situations, like when you have something like a search bar and want the search results to pull text previews directly from the target page and don't want a duplicate content penalty for doing so.
5. Choose the right voice and tone
It's essential that your website uses an appropriate style, one that reflects you and your values. A common misconception is that the only correct tone is to be overly formal, almost academic. Instead, what matters most is consistency. If formal suits you, that's fine. But if you'd rather be funny, straightforward, conversational, or sarcastic, those can all work too. And a copywriter can handle any one of those styles.
Take the message "A copywriter is a good investment" and see how that same message can be portrayed in several different styles:
Formal
Professional copywriters tend to have advanced degrees in English Literature and Composition. They are skilled in researching, creating, and revising blogs, essays, and more. Because of their talent, abilities, and aptitude for conveying insightful, accurate messaging, a copywriter can be a considerable asset to any organisation.
Straightforward
One of the best ways to see an increase in conversions for your marketing efforts is by using a qualified copywriter. Using a professional writer can save you time by working quickly, generate revenue by attracting new leads, and help you put your message into words through a strong command of the English language.
Conversational
In order to be found in Google and to make sure you get the meaning across to your potential customers, you'll need to do a good amount of writing across your website and social media. Working with a copywriter makes that easy. They're expert wordsmiths and don't just tolerate long pieces of writing–they actually enjoy it! They're quick studies and great storytellers and can take a lot of the workload off your shoulders.
Statistical
The average person only reads the headline of an article, with just 2 out of 10 reading the whole text. This chance increases depending on the quality of the headline, with 6-word headlines being the most compelling. Once engaged, the reader will spend an average of 7 minutes reading an article. Keep in mind however that over 50% of people avoid doing business with a company who has obvious grammar errors. With so much on the line, using a professional copywriter is the smart choice to increase the chances that people will read what you have to say and become leads or even customers at your business.
Sarcastic
Did you enjoy five-page essays in school? Yep. It'd be pretty choice to do that for a living, eh? Well that's exactly what you're doing when you try to do the writing for your digital marketing all on your own. Sure, it's nice that you got 3rd place in the classwide essay competition in Grade 5 about why your great grandpappy was your hero. But now, every paragraph can be the difference between landing a whale worth $30k a month and sending yet another customer over to Big Al's down the street–who's proven he might actually be deserving of that Most Likely to Succeed trophy after all. Don't let Al win; hire a professional copywriter and watch those fat stacks of red dollar notes appear in the black column of your revenue tracking sheet.
Regional Slang
Have you sussed out just how much writing it takes to do successful marketing? If all that work makes you think "yeah, nah" a sweet-as copywriter can create some choice work for your brand. If you're keen to work with someone who practically shouts your company profit, a copywriter is the ideal choice to be your new old mate who can help your business write copy that's all good.
Punny
What do you call someone who never mixes up copy/pasting? A copy righter! Don't get left behind trying to come up with the words all on your own; make the write choice and let a professional copywriter handle the job for you!
So which style is right?
Each of those styles is conveying the same basic message, but they emphasise different points and say the message in different ways. The ideal tone and voice depends on your target market and the feelings and vibe you want your brand to give off. Don't be afraid to try something different either–it's important that you be you!
6. Accurate spelling and grammar
Your credibility is instantly reduced if someone finds a spelling or grammar mistake. The level of tolerance for mistakes also depends on the platform you're on. On a personal Facebook page, most people won't mind the occasional mistake or misspelling. Less leeway is given from a Business profile page. And for your website, you should look to have impeccable grammar, particularly on your main pages like the Home and About pages. Copywriters are also great proofreaders and can catch these mistakes whether the page was written by them or somebody else.
7. Create multiple types of content
Quick, what's kind of content do copywriters create? Articles and blog posts are common answers, but it's only a small fraction of the kinds of content that a professional copywriter can create. Some others include:
Navigation pages
These are the pages in your navigation bar like the Home, About, and Contact pages. Since the navigation bar is on most, if not all pages, the wording on those pages should be precise, helpful, relevant, and grammatically correct.
Landing pages
Landing pages are about one specific topic and are often what you'll be directed from a Google search. These tend to have a single goal like generating awareness, getting leads, or trying to get a sale or a sign-up to a service.
eBooks
Writing an eBook can be a long, time-consuming task. Unlike a typical article that can be one and done, eBooks are expected to carry a related thread from start to finish. Keeping everything connected can be a challenge, but one that's much easier for a copywriter than your average person who writes.
Technical documents
These are documents like how-to instructions, course descriptions for workshops or seminars your business is holding, documents for policies and procedures, and many more–as long as they aren't required to be written by a lawyer, a copywriter can probably handle it!
Social media posts
Social media is steadily becoming a staple of our lives and an enormous influence. Whether you need posts for Facebook, Twitter, Instagram, LinkedIn, or anywhere else, a copywriter can help you get the message across.
Video scripts
Video is the most popular and influential form of content these days. While the film quality is definitely important, videos with a well-written script are more engaging. Great videos often require teamwork; a star in front of the camera, a videographer behind to film and edit, and a copywriter to make sure it sounds good and makes sense!
Emails and Newsletters
Email marketing is still one of the most common forms of digital marketing. But with hundreds of emails going to a typical person's inbox a day, how do you get read? Copywriters can help make your message enticing and interesting so you can get past the spam pile.
Blogs, News, and Articles
Writing new content helps your site get found in Google, and increases the odds that someone will find what they need from the information on your site. But these posts need to be helpful, relevant, and fresh. A professional copywriter can make sure it checks all the boxes.
And more!
There's plenty more that a copywriter can do. You can find out about these and some other kinds of content in detail in our eBook What is content? 
8. Save you time
Even if you're confident in your writing ability, there's a lot of writing that goes into successful marketing. Copywriters can cut down on that time by creating content for you. Along with figuring out what to write about, copywriters also tend to be lightning-fast on the keyboard. It's not uncommon for them to type 60, 75, or even 100 words per minute at full speed. When your goal is to write 2000 words, there's a lot of time saved between 20 words per minute and 100!
9. Make you more money!
The right word choice can be the difference between success and catastrophe. But it can also be the difference between picking up a sale or sending a customer to the competition. HubSpot has a blog article about how small wording changes drastically increased conversions; sometimes over 100%!
If you're keen to work with a marketing company that uses a professional copywriter who can create memorable content for your business, give us a look at Back9 Creative Studio. Feel free to give us a call, email us, message us on social media, or just stop by for a chat in downtown Invercargill!