Meet Gus – Our New Google Ads Specialist!
Google Ad Specialist, I hear you say… Why Yes!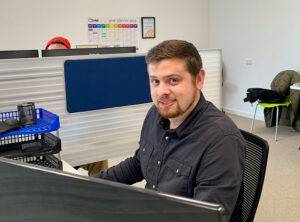 We are so stoked to have welcomed Gustavo Simões (Gus) to the Back9 Creative team. Gus is from Brazil, but he has been traveling throughout Aotearoa, most recently working in Hamilton.
He decided that he wanted to live the true and desired South Island lifestyle, so he chose Invercargill as his base.
Gus has a bachelor's degree in marketing and he specialises in all things digital. So not only is he a Google Ads Specialist but a 360° all-round, digital marketing expert #CPC, #ROAS, #SEO, #SEM #CTR #CPA #KPI, etc…
So, if you're near the Studio, feel free to pop up and say hi to Gus!
Gus's Background
Gus grew up in Brazil (but doesn't play Football – weirdo, lol), and since he was fifteen he has been interested in marketing and advertising. He studied marketing in college and he has been working in the field for almost a decade. He has worked for and with a diverse range of businesses, of all sizes, from startups to global advertising agencies and clients (HP and Adidas to namedrop a couple).
From a former heavy-weight bartender to an Ironman Triathlon finisher, Gus knows how to surf amongst different trends, topics, and all kinds of subjects.
We are excited to have Gus on our team as a digital marketing and Google Ads Specialist. Besides his ability in building effective campaigns that will help our clients increase their visibility online. And how to be successful with Google Ads. But, he also understands the subtle art to approach and translate technical jargon in an uncomplicated and painless way. 

Having Gus on our team will help us better serve our clients and provide them with the best possible results. Infact we think it makes us the Best Google Ads company in Invercargill if not the best Google Ads Agency in New Zealand… 😉
Thanks for joining us, Gus! We're glad to have you on board.