Web Design NZ – Find a design partner who will get you results!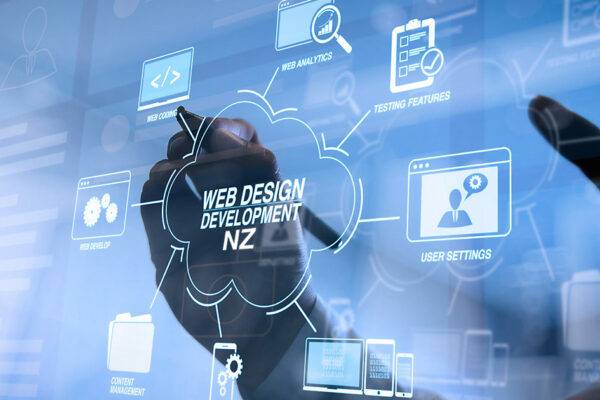 Are you looking for web design in NZ? Taking the time to find an experienced digital partner is key if you're determined to create a successful online presence. Good web design in NZ adds credibility to your business and helps attract more traffic. And that's exactly the kind of thing all marketers and business owners should aim for. However, with so many website design companies out there, it can be challenging to know where to begin when selecting a partner who suits your needs. Fortunately, identifying the right factors can lead you straight towards success! In this blog post, we'll discuss what criteria are most important in finding the ideal NZ web design company that will get you results.
Web Design in NZ (or globally for that matter) is no longer a nice to have. It's not something you do because everyone else is doing it. A website is crucial to your business success online. Gone are the days of a website being an online brochure – or a 'shop window'! In fact, websites are like staff. But ultimately a website is a sales tool. Plain and simple… And NZ businesses and marketers need to start viewing it as such.
A website is the hub of your digital marketing roadmap (or plan). Therefore understanding your business objectives and target audience is so important. Why are you building a website, who are you targeting and what do they need from your website design?
Times have changed. Web design has changed. In fact, traditional website design is broken! And furthermore, digital services have changed. There is no longer a need to rely on face-to-face contact all of the time.
Web Design in NZ can be done from anywhere
At Back9 Creative, we have been designing and building websites for many years. We have an experienced in-house team, and we want to help business owners and marketers succeed online! Ultimately we want to help them make the right decisions for their businesses. And that means choosing the right website design company for them. And that doesn't always mean they'll be in the same town or city.
Just like companies who sell online all around NZ, an office or store in each town is a thing of the past. Just ask our mates at Safety 1st NZ!
Location is not a barrier to Web Design NZ
When it comes to web design in NZ, location isn't essential either. Companies doing web design in NZ, including those outside of the main centres like Auckland, often have the same set of skills, resources, and tools to deliver high-quality websites. At Back9 Creative, we have clients from all over New Zealand. And technology has made it possible to communicate effectively without the need for frequent face-to-face meetings.
Local is great. We love local. But that doesn't mean the best partner for your business is local. Research the web design market in NZ to find the right design partner for you. We love building loyalty here in NZ. And a good old face-to-face is great. In saying that though, gone are the days where you need a web designer in the same town.
With the ability to travel around NZ so easily these days and the advances in technology, it means meetings can be conducted virtually or in person, with a little prior planning (and budget)
The world of web design can be overwhelming. This is especially true when searching for the right partner to bring your vision to life. The NZ web design market offers a plethora of options to suit various business needs and budgets. It's important to take the time to research and ensure that the design partner you choose has a solid track record. Not just in producing quality websites, but providing excellent customer service. Look for reviews from past clients and examples of their work that align with your vision. Remember, the right design partner can make all the difference in creating a successful online presence.
Budgeting for Web Design in NZ
Define a budget range that includes both the cost of developing the website and any ongoing costs. Having a hard fixed budget seldom bears fruit in terms of results. There are so many associated options with hosting and ongoing maintenance
Creating a budget is an essential step in the process of developing custom websites. It is crucial to have a clear understanding that a website is never really finished so it will be often difficult to nail down a total fixed cost. There is a lot of things to think about in the design to the development of the website. Tasks like inputting the content or data, are often overlooked as well as SEO and other optimisation. That's before even considering any ongoing expenses related to hosting and maintenance. These costs can add up quickly, and failing to include them in the budget range may result in unexpected expenses down the road. Or worse, a lack of results
What costs should you factor in for Web Design NZ
From the cost of a domain name to selecting a hosting plan, SEO, and Advertising, there are several costs associated with building and maintaining a website. Therefore, it's important to define a comprehensive wishlist. A wishlist should takes into account every aspect of website development. That way you can ensure that your website is well-maintained, up-to-date, and available to users at all times.
Shop Around
Ask potential design partners about their experience in designing websites that meet similar goals and objectives to yours. Most will say they can deliver, but the truth is, no website company can deliver a website that truly delivers as a one-off project. It simply doesn't work. Not with the speed at which everything around the website is changing. Things like the Google Search engine algorithm (how they rank websites) the rise of AI, and Browser updates, not to mention the user's behaviours…
When it comes to selecting a design team for your website, one of the most important questions to ask is about their experience in designing websites that share similar objectives as yours. This is crucial as it provides insights into their ability to deliver what you require. If their team has a proven track record in designing websites like yours, may help you determine if they are a good fit. Their experience in designing websites with similar goals should not be overlooked either. This might be the difference between a successful project or a costly mistake.
Identify any extra features or services that may be beneficial for your website. This may include things such as content creation, SEO optimization, user testing etc
What about Content?
This is a significant part of a web design project. When working on your project, it's important to consider any additional features or services that could help enhance it. One option to consider is content creation. Whether it's blog posts, social media updates, or website copy, having quality content can help attract and engage your target audience. Consider is SEO optimization, which can help ensure your website ranks higher in search results. As a result, this drives more traffic to your website. Additionally, user testing can be a valuable tool to identify any pain points or areas for improvement in your project. Ultimately, these extra features and services can help take your project to the next level and ensure its success.
Get references from previous clients so you can see examples of their work and assess whether their style is a good fit for your business
As a business owner, finding the right service provider can be a daunting task. One of the best ways to ensure that you are hiring the right people for the job is by checking their references. Requesting references from previous clients will not only give you a chance to see examples of their work but also assess whether their style is suitable for your business needs. Seeing firsthand how the provider interacts with their clients will give you a better idea of what to expect from them. This information will help you make an informed decision that will benefit your business in the long run.
Be Open and Transparent
It's common when sourcing prices, that we play our cards close to our chest. We want the best deal, right? We don't want to get ripped off. Well if you find the right web design company in NZ to partner with, this shouldn't be an issue… There are definitely some fly-by-night 'cowboys out there, but if you do the mahi around souring the right company – it shouldn't be an issue. We're not all out there to rip people off…
Have an open discussion with them about the scope of the project and make sure all expectations are clear before signing on with them.
Before embarking on a new project with a team, it's essential to ensure everyone is on the same page. It's always recommended to have an open discussion about the scope of the project and clarify expectations before signing any contracts. Having clear communication and transparency in the early stages can save time and prevent misunderstandings down the road. Asking questions and having a detailed conversation can set the stage for a successful project and help build trust among the team members. Don't be afraid to speak up and ask for clarification if needed. It's better to address any uncertainties before starting the project than have it become a problem later on.
Do your research
In conclusion, a little research and forethought can make all the difference when it comes to finding an NZ web design partner that suits your business needs. Understanding your objectives, audience, budget and potential extra features or services will help you identify the right partner for the job. Don't be afraid to ask questions and get references from past clients to ensure they can meet your expectations. Taking the time to weigh these factors will help you build a website that resonates with your target market and leaves a lasting impression. So why wait? Start researching today to find the perfect web design partner for you!