What do Graphic Designers do?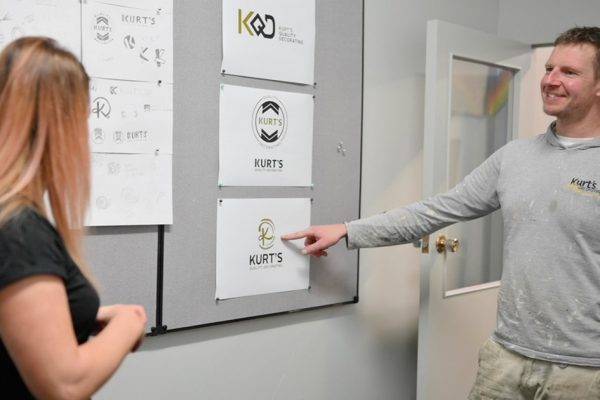 When something becomes second nature, it's almost impossible to describe it in its most simplest form and that's how we feel about Graphic Design! We've been living and breathing design for well over a decade (that makes us feel old!) so to say that we are passionate about it is an understatement. But what do we actually do?
What can you design/create?
The sky's the limit – all we need is a brief! One of the biggest parts of graphic design is planning. This involves researching, understanding the client's needs, creating a brief, and then making sure that it is fit for purpose.
Once all of these things have been done then we can move onto the design stage.
Some things that a graphic designer will typically design include:
Logos. Logos are the first thing a lot of people think of when they hear "Graphic Designer". It's for a good reason. Logos are probably the most important part of your brand identity. It's how people recognise you, your brand, and what you do.
Websites. The design of your website can make the difference between a person choosing your business or competitor. A good graphic designer takes colour, shapes, fonts, usability, and much more into account when creating a custom design.
Apps. Apps might seem similar to websites, but they can be quite different. Getting the design of the website (and extra features too) to an app is no easy task. The designer will typically work close with an app/website developer to make sure it looks good and works like it should.
Print collateral. Digital may be the biggest part of design these days, but print is still important. Having flyers, booklets, handouts, guides, or something else you can pick up can mean a lot. Having something your customers can take home with them can be an excellent reminder later on too.
Business cards. There are several ways to get business cards like Vistaprint if you're keen on doing them yourself. But a professionally-designed business card can make a huge difference. A lot of our clients found it was worth having us design the business card, then they can reorder it with the same design as needed.
Promo products. Branded products still have an impact but the design of those products is crucial. Sometimes that means doing some tweaks to the logo or putting your branding in the perfect spot. A designer can help you get this just right.
Adverts. These can be printed for newspapers and magazines, or digital for Facebook or Google. For an advert to be effective, the design needs to be eye-catching but also represent the values and culture of your business.
Much more! Graphic designers can work on many more things, even speciality designs like building signage, books, vehicle wraps, and much more.
A day in the life of a graphic designer
A typical day for a graphic designer will be different depending on where you go. Some designers are specialists in one area. Others do a little bit of everything. Let's break down a typical day for a Graphic Designer at Back9 Creative.
No two days are exactly the same as a designer at Back9. We might be working on a logo concept part of the day. This involves researching imagery, competing businesses and sketching out ideas. Later on, we might move on to designing some business cards. And then it's over to a digital marketing campaign and we need to design an eye-catching Facebook advertisement. Then to finish the day off, we might design a new website page. Are you getting the feeling that multitasking is key?
Do you have to be qualified to become a graphic designer?
You don't have to be qualified but it certainly helps when competing in the job market. Employers will typically look for a new graduate that has a Bachelor in Design or has a minimum of three years of experience.
It also helps to have experience with software like Adobe Creative Cloud. Some software has its own certifications you can get by taking a course online (lots of them are free). The more of these you have, the better! Click here to learn more about Graphic Design as a career option.
How can an experienced designer help your business?
Designer Lormindo Mamo said "Every great design begins with an even better story". An experienced designer can help tell that story. A professional designer in your corner helps to bring your brand to life!
With experience comes wisdom and the ability to make informed decisions quicker which in turn can help to deliver results for your business. Here at Back9, we are brand experts. We understand what can elevate your business and help it be communicated exceptionally to your target audience.
Why should I invest in Graphic Design?
You might enjoy playing around with Photoshop, Canva or Microsoft Publisher and feel fairly confident in your abilities. And if this is the case, we probably aren't a good fit for your business and that's ok.
But once you see the value that a design agency can bring to your business you might change your mind. Often all it takes to completely change a brand's visual identity is a fresh set of eyes from an external party and there are a number of great design companies in Invercargill. Here at Back9, we can audit your existing collateral/messaging and identify ways to improve and better communicate your brand to your audience.
One of the main services our graphic designers do is to create a logo and brand identity. Our logo package starts at just $175 + GST per month for 12 months. Or feel free to get in touch or give us a call to see what we can do for you!