How much does a website cost in 2023?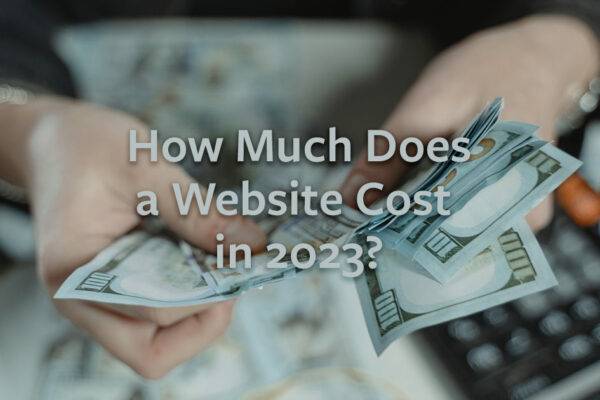 Are you a small business owner or an aspiring start-up looking to create a website? You mostly likely be wondering how much a website will cost in 2023. And, more importantly, what can you do to get the best value for your hard-earned money? The good news is that here at Back9 Creative, we have experience with a range of websites from small to massive. And with careful planning, research, and budgeting there are ways to keep costs down while still creating a great website. In this article, we'll take an in-depth look at the different factors involved in website pricing. As well as tips from design professionals on how to save money without sacrificing quality.
Overview of web development costs in 2023
The importance of research when choosing a web development agency
Factors that affect the cost of website development
Tips for getting the best value for your money when buying a website
How to ensure you get quality website design and development services
Financing options available for website development in 2023
Ongoing website costs, such as hosting and maintenance
Overview of web development costs in 2023
With advances in technology and the current booming world of digital marketing and website development, it's no surprise that cost is a major factor to consider when trying to create a website. Navigating the already confusing landscape of website design and development can be even more daunting when you factor in cost.
While you may be thinking about free website design – and if it is the best option, it is still important to understand what you are getting. There are many low-cost options available, from Free to Cheap… But they often come with hidden costs or caveats that could put undue stress on you and your budget. Instead, it's important to focus on getting the best value for your money. And doing so requires research and understanding of what goes into a quality website.
In 2023, website costs can vary greatly. These costs depend of course, on what type of site you're looking for. And the type of website. If you plan ond going it yourself or if you should hire a website professional.
With (really) basic websites starting at around $2000NZD and more complex ones requiring upwards of $10,000NZD or more. So how can you ensure you get the best value for your money? By speaking with web design experts who can help assess your needs and find the right solutions for you [hopefully] without breaking the bank.
The importance of research when choosing a web development agency
When it comes to choosing a web design and development agency, research is key. Looking into different options will give you an understanding of the costs and services on offer. And what to expect from a web design company too. This will not only help you decide what best fits your budget but which company fits best with yours…
Be sure to take your time researching the web development company you choose. See where they rank in Google search. Read online reviews. Ask for referrals from friends or colleagues. And make sure to ask questions.
Researching different web design and development companies will help you get an understanding of the cost and services available as well as what to expect from the agency. It's important to remember that not all agencies offer the same quality of service, so do your due diligence and ensure that you're getting the best possible value for your money. Doing your research will also ensure that you find a great fit for your business!
Factors that affect the cost of website development
When it comes to website design and development, the cost of your website depends on a variety of factors. Of course, the size and complexity of your website affect your overall budget. This is because larger and more complex websites generally require more work and may include features such as custom programming. Other factors such as integrated applications, mobile responsiveness, and search engine optimization can all add complexity and cost to building a new site. One of the biggest costs when creating a website in 2023, is the content. What is content? Well, content is all the written information, photos, videos, infographics, and so on. Think about who will make and supply this content? Will you need assistance with this? And once the content is made – who will input it?
As well, as this there can be significant variations in the quality of service provided by web design companies in New Zealand in 2023 – so it pays to research previous projects and feedback when selecting service providers to ensure you get the best value for your money.
Tips for getting the best value for your money when building a website
If you're looking to build a website in New Zealand in 2023, you want to ensure you get the best value for your money. This can be done by researching different web-development companies and their rates, scoping out the market for good deals, taking advantage of discounts, and asking pertinent questions.
Ask about their process
Discuss Content – who will create is it, and most importantly, who will input it?
Is traditional web design broken? What are the other options?
How do you charge?
What are the ongoing support options and how much do they cost
A website in 2023 is an asset, it is a sales tool. In fact, websites are like staff. There is always something new, that they need to be informed about or trained on. So that means in 2023 a good website is never finished – it is not a set-and-forget cost. It is an investment. So it's important to get educated on the various elements that come with building and maintaining a website so that you know what to look for and ask of potential developers or providers. It's never been more important to arm yourself with knowledge when it comes to spending your hard-earned money. Investing time into research now can help ensure better returns in the long run!
How to ensure you get quality website design and development services
Knowing how important having a quality website can be for your business is key. It's also essential to make sure that you get an experienced and knowledgeable team to design and develop the site. Starting with researching all available options – this includes looking into what services they offer and whether they have any customer reviews or testimonials. Additionally, confirming their qualifications and knowing who will be involved in the process of creating your website are vital steps in finding the right provider for your needs. Finally, it is worth checking how much experience they have, and what sort of budgeting options they offer – this will help to ensure that you are getting the best value for money when designing and developing a website in New Zealand during 2023. With a little extra care taken upfront to find the right service provider, you can feel confident that your website project is in safe hands and that you'll end up with an outstanding end result.
Financing options available for website development in 2023
Financing options for website development in 2023 NZ might seem like a bit of a grey area. It's important to note that how much your website costs really depends on the features you're after, but fortunately, there are some great ways to get the best value for money. At back9 creative, we believe the best investment for a website in 2023 is Growth-Driven Design. This methodology is a game changer – and it makes the website become an investment and not a cost.
Other options to explore if growth-driven design is not right for you are: signing up for payment plans with website design companies or researching grants or small business financing options. Most web design companies will charge a percentage upfront and progress payments along the way. But ultimately you'll want to make sure that you know what budget is available and decide which payment options they offer will work best for you.
Whether is just a very basic templated website with minimal content and optimisation or a complex e-commerce platform, with thorough research and planning, any business can find a suitable way to finance its website requirements in 2023 NZ.
Ongoing Costs of a Website in 2023 and Beyond
As I mentioned above, a good website these days is an investment. And you should never truly see it as done. A website has the ability to Attract and convert anonymous visitors into leads or prospects. And that means you can actually them into customers – or sales! Understanding Inbound marketing and the buyers' journey is key here. So not only should you be looking to analyse and measure your website going forward, you should be adapting it to work better for your users. This is known as data-driven marketing. On top of that, websites require hosting (the server costs for where the site is stored) and maintenance as the platforms around them update. Web Browsers, Devices such as phones, etc all update periodically and you want to ensure you're website is not left behind as this happens. These factors, along with website performance and more affect Search Engine Optimisation (SEO) so that's also an important element to consider. SEO is what helps your website get found among the some 1.5 billion live websites in the world wide web.
Website hosting can start from as little as $8 a month, but that is pretty basic. Add security and maintenance to that and you can expect to pay anywhere from $30-$200 a month depending on the offering and level of support. Basic (Technical) SEO starts from around $350 per month and can cost upwards of $2000 per month for larger, more complex website sites. Again this depends on the offering at SEO involves a massive number of variable avenues from Technical SEO, Keyword research, link building, and content SEO to name a few.
If you're wondering why you need SEO and Website maintenance, is simple.
So you're website can get found online, faster and more often
So your visitors stay longer and convert to leads – which = more sales.
So you don't get lost in the sea of 1.5 billion websites.
Research is Key
when it comes to website development in 2023, you need to consider the cost, but also the value for your money. Research is key in order to finding the perfect web agency for you and making sure that the services provided are of quality. Keep in mind the various factors that affect a website's cost as well as our tips to help you get great value for your money. There are many financing options open to you so you can still achieve your desired website regardless of budget constraints. Get in touch with us today and we'll provide exact costing specific to your needs. We guarantee high-quality output even with a tight timeline. Don't wait any longer! Take advantage of these amazing opportunities and start working on getting the website of your dreams right away!