How to Sell Products Online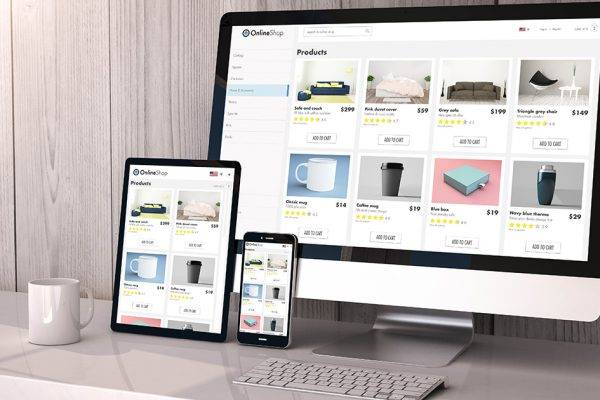 Shopping online is becoming less of a bonus and more of an expectation these days. While mega online stores like Amazon and eBay aren't as popular here in NZ as they are in other countries, they won't stay that way for long. With many big NZ chains already having online stores and Amazon AU now open to New Zealand, online shopping is becoming massive worldwide. COVID-19 showed us how convenient shopping online and having products delivered straight to our door can be. Now, it's almost an expected feature. So how can you start to sell products online?
Why sell products online through your website?
Not long ago, it was common to find many businesses that list their products online but have no prices or options to buy on the site. The idea was that people would see a product they like, drive to the store to buy it, and maybe pick up a few other items while they're already there. It might seem like a solid idea, but now it's an outdated one. Websites can suggest great pairs of products right there while you're shopping. And while a lot of people were resistant to shopping online, the COVID Pandemic forced it upon them–and a lot of people found they preferred it. In the US for instance, online shopping rates doubled compared to the 2 years previous, and the trend continues to go strong.
This means that when possible, businesses should be considering adding e-commerce options–options for purchasing products directly from the website–to make sure that customers can find what they're looking for and can buy what they want easily. Having an e-commerce option lets visitors decide they want something and buy it on the spot. Without it, you could be missing out on people on the final stage of the Buyer's Journey, the ones ready to buy now. If you have shipping options, you can also reach people across the country who would never come into your physical store. If you don't sell online, you could be missing out from people from all over who want what you have to offer!
How to sell products online
Once you decide to start online, how do you get started? We've got you covered; simply follow these 9 steps to start selling products online!
Decide what items you want to sell online and choose an e-commerce platform.
Decide on and purchase an inventory management system.
Choose and purchase a payment gateway.
Build the website and integrate inventory management and payment gateway systems into your site.
Write out descriptions of all your items, take/upload images and videos, and publish them to the site.
Sort out a shipping option (if having items delivered).
Customise your checkout process to fit your ideal customers.
Preview and test your new online store and ensure that everything is working.
Refine and update your processes based on how customers buy products and use the site.
In this article, we'll briefly cover each of the 9 steps. We've also covered each of these in more detail and we'll link to the full article with more information at if you want to know more about any one of them.
1. Choose an e-commerce platform
An e-commerce platform is the place your website is built and how it is stored. Each e-commerce platform has its own ways of adding and displaying products along with advantages and limitations. Some platforms are designed specifically for certain industries or business sizes. Others are more general purpose.
The right choice for you will depend on the number and type of products you plan on selling, how comfortable you are with technology, your budget, and who you want to build your website.
Who will build your website?
For most businesses, budget is the most important factor for the website. Your budget determines who builds your website and how much money you have to invest in it. If you have a small budget but a lot of time, you'll probably want to use a platform like Shopify. With these platforms, you choose a templated site and simply change the elements like the logo and pictures to fit your brand. These are relatively easy to use; however, you'll be limited in customisation and features. Getting found on Google through SEO will also be more challenging without added plug-ins, most of which are on a paid subscription plan.
If you have a higher budget and want a professional to build your website for you, a custom option like WordPress with WooCommerce will be better. With these sites, your website design will be structured around your brand and how your customers use the site. This means you'll likely have higher conversion rates and the site will feel more natural to your users. A professionally-built custom site takes longer to make but it will be unique to you.
To find out more about Shopify, WooCommerce, and other e-commerce platforms, take a look at our article What is the best eCommerce platform for my business?
2. What's the right inventory management system?
While you might be able to try to keep track of your inventory with a notebook and a pen, it's a lot of trouble that can be automated away with an online inventory management system. Depending on your business size, a simple database manager may do the trick, or you might need a comprehensive digital suite to make sure everything is handled properly.
Using an online inventory management keeps track of how many of each product you have left and allows you to quickly change prices for sales. Many will also automatically track sales numbers and create reports comparing month-to-month performance. A solid offering will also integrate with your in-store stock so you don't have to try to coordinate stock manually. There on many to choose from, we've covered some of the best inventory management systems in NZ in a quick comparison below.
Inventory Management Systems Comparison
| | | | | |
| --- | --- | --- | --- | --- |
| Name | Price (Month) | Number of Products Tracked | Trial Period | Features |
| Unleashed | $259-$899 | Unlimited | 14 Days | Cloud-based, Multiple Currencies; Optional B2B eCommerce; API Access; Document Designer |
| Sortly | $FREE-$119 | 100-unlimited | 14 Days | Cloud-based, Desktop/Mobile Access; API Access; Cloud Storage; 30-90 Day storage; Auto sync data |
| Vend | $129+ | Unlimited | 14 Days | Cloud-based, Custom receipts, in-store register, barcode scanner, cash management, auto reordering |
| Cin7 | $375-$1245 | Unlimited | Guided Demo | Cloud, based 24/7 support, automation, CRM, POS integrations, Warehouse Management, Payment Portal |
| Accredo | Not Specified | Not Specified | Demo Version | Invoicing, reporting, automation, sales tracking |
| Ostendo | $1500 (Year);$300 renewal | Unlimited | 30 Days | Stock takes, allows negative stock, unlimited supplier catalogues, multi-currency and tax rates |
| Infusion | $35-$85 | Unlimited | 30 Days | Kitset pricing, print barcodes, product catalogues, integrated cashbook |
| SAM | Orion | Not Specified | Not Specified | Guided Demo | Multiple currencies, full sales and costing analysis, vehicle industry special features |
Inventory Management Systems in more detail
Want to know more about inventory management systems? We cover some more of the basics about these systems and go into more detail about each of them in the above table in our article Best Inventory Management for Selling Products Online.
3. Choosing the right payment gateway
If you decide to sell products on your site, protecting sensitive customer information is one of the most important things that you can do. While website maintenance can protect some of your customer details, financial information should never be in a position to be compromised, and using a decent payment gateway makes sure hackers and data thieves shall not pass through.
There are many different payment gateways to choose from, each with different upfront and per-transaction costs. But there's more to consider than simply cost. Some offer better service or incentives, while others aim to provide the service for the lowest cost, but have minimal customer support or extras. To help with your decision, take a look at a quick comparison of some of the best payment gateways in NZ.
Payment Gateways Comparison
| | | | | | |
| --- | --- | --- | --- | --- | --- |
| Name | Setup Fee | Monthly Fee | Transaction Fee | Transfer Speed | Extras |
| PayPal | $0 | $0 | 3.4% + $0.45 per transaction | Usually within minutes (To your own PayPal Account, not bank) | Online invoices and Mobile Payments included; lower rates with more sales, invoices and estimates, subscription payments |
| Windcave | $150 | $30 | $0.30 + 2.8% per transaction | Overnight | Automated Phone Payments; Batch Processing, in-store terminal, Account2Account |
| Stripe | $0 | $0 | 2.9% + $0.30 per transaction | 4 Business Days | Real-time reporting; Pay as you go; Multiple Payment Methods accepted; Anti-Fraud tools |
| Paystation | $99-$149 | $19-$149 | 75-500 free transactions, then $0.32-$0.45 depending on plan | Varies (Based on Bank) | 15 supported currencies, batch processing, cashflow reporting, Customer Support, API Integration, onboarding, |
| Cybercom Pay | $99+GST | $0 (If using CyberCom Pay Online) | 2.85%, 1.29% for NZ Charities | Same Day before 6PM | Subscriptions, Mini CRM, Mobile App, 12 currencies with no exchange fees |
| Paymark Click | $125 | $25 | $0.20+ | Overnight | Online EFTPOS, business insights, API Integration, 24/7 local support |
| Worldline | $45 | $25 | 2.8% + $0.30 per transaction | 3 Business Days | Customisable checkout, API Integration, 24/7 local support, Subscription payments, batch processing |
| Flo2Cash | $200 | $30 | From 3.4% per transaction | 2-4 Business Days | Customisable checkout, API Integration, Batch Processing, Subscription Payments, Direct Bank Transfer, Phone and PDF payment options |
More about payment gateways
Payment gateways can be confusing at first glance. Why exactly do you need one and what are the benefits? We cover how payment gateways work and more information about the ones we listed above in the article Best Payment Gateways for Selling Online.
4. Building the website
Once you decide to sell products online and have chosen an e-commerce platform, you need to build the website. As we mentioned above, you need to decide if you want to build the site on your own or have someone do it for you. Depending on your chosen e-commerce platform, building it on your own may not be the best choice. While platforms like Squarespace and Shopify are built for simple use, platforms like WordPress sacrifice ease-of-use for versatility. While this makes it more challenging for a standard user, a professional web developer has many more options with this route.
When possible, we recommend having an expert build your site. They simply have the experience and skills to ensure the site functions properly. Your site will also be up and running faster. Some website building companies also include ongoing updates like adding products or optimising for SEO. Of course the more services you choose to include, the more the site will cost. We go over basic website costs and what causes them to increase in more detail in our article How much does a website cost?
Having a professional build the site isn't for everyone. For some, the initial investment is simply too high. Others like full control of all content on the site. If you aren't sure which option is best for you, our article When should I hire a professional to build my website may help.
5. Product description, images, and videos
This part of the process is where many people trip up. Depending on the number of items you plan to sell, it can frankly be overwhelming to create the content for it. If you are a reseller with thousands of products for instance, how can you possibly take the time to write out a description and upload high-quality, relevant product images for each of them? Doing this for all products might seem like an endless task. Even some of the major retailers in New Zealand have trouble doing this for every product!
How to handle large inventories to sell products online
There are a few ways to overcome a large inventory to sell products online. One is by using a growth-driven design philosophy. With a traditional website building process, you'd build every page and add every product before making the site live. Then every couple of years or so, you'd do a major site upgrade such as changing the entire design.
With a growth-driven philosophy, you start out by publishing a functional website and continually improve it over time. You might start out with a limited stock of your most popular products and add more over time. This will allow people to buy online sooner, then you add more products when you can. With this method, each product can have an excellent, thorough description and high-quality images. You can even add a video demonstration when applicable too, as product demo videos are the most effective way to convince people to purchase. You can find out more about growth-driven design in our article How Growth-Driven Website Design Works.
Another option is that some inventory management systems allow you to import this information directly from suppliers. This can greatly simplify the process, especially when you have a massive inventory. While this ensures that your product information is accurate and added quickly, it will also make it the same as any of your competitors that do the same thing.
Professional content creators
Finally, you can have professional content creators help do this step for you. Professional copywriters can help give you compelling, unique descriptions and combined with product photography can help you have a consistent look, tone, and feel for your products. For some of your best products, a product demonstration video can be extremely powerful. You can also have some of your products updated by content creators while others are imported automatically.
No matter which method you decide to do, having a solid product inventory to accompany your website launch will help your customers make informed decisions and increase your sales percentages too!
6. How to handle shipping
Shipping can be extremely complicated. As a store owner, you have to do a lot of planning to make sure everything goes smoothly. New Zealand makes this even more challenging with different rates depending on the island and rural vs urban delivery. Because of this, some e-commerce sites in urban centres choose to avoid shipping altogether. However, this also greatly limits your reach to people nearby. Plus, most people expect home delivery when buying online these days.
If you do decide to have products ship, there are several things to sort out. Among these are choosing a courier company (or companies), product packaging and labelling, emails and tracking information that goes to customers, and of course the price.
Finding the sweet spot for shipping might take some time. You may not get it right when you launch the site and might need to adjust it to cover your costs. Or if it's too high, you may need to lower it to entice customers to choose you. Many studies show that free shipping is best incentive a customer can get. But a business owner, that may not be practical or even possible if you want to make a profit.
Because shipping is so complicated, we go into it in much more detail in our article Ecommerce shipping solutions for selling online.
7. Customising the checkout process
Nobody likes long, convoluted checkout processes. Unfortunately, this is the default option for some website templates. If you have a customisable website, however, you can change this.
Ideally, you want your site to be as easy as possible to use. What makes the site easy depends on the type of customers you have and how they use your site. For instance, having something like Apple Pay on an individual product so a customer can buy a single product and complete an order on the product page might make sense. Or having an option to make an account where customers can reorder the same products with a few clicks might increase sales.
Including special business pricing or the option to pay by invoice might be ideal for B2B businesses instead. There are limitless features you could add, but choosing which ones you should add depends on who is using your site and how they are using it.
These kinds of steps can be addressed when making your business plan or when developing buyer personas. A process like a digital marketing roadmap can help you identify your actual customers and how to best reach them.
8. Testing and reviewing your site
Before you publish your site and make it live to the world, you need to make sure all the processes work as expected. For site builders, most of the functionality will be built-in. Just make sure that purchase order emails etc go to the right place and you'll probably be good to go.
If you've manually connected your own inventory management and/or payment gateway systems, you'll also want to run through various scenarios and test purchases. These systems have fake credit card details you can use to test purchases without them actually going through, so do as many as you want! Ensure that everything works as expected and all of the emails, tracking information, and everything else goes to the right person.
Once everything is all good, make your site live!
9. Updating and refining the site
The easier and more intuitive your website is to use, the more likely a potential customer is to make a purchase. A good website is like staff--and can even be your best salesperson! And like staff, a performance review can help show your website's strengths and areas where it can improve.
Your website is an investment. While it might seem like a relief to publish it and not worry about it anymore, there's still a lot you can do. With a data-driven approach, you review the data of your website and make changes based on what the numbers show. And with websites, there is a ton of data.
With Google Analytics, you can how many people visited any page or product on your site. If you're running Google Ads and have it connected properly you can see your cost vs revenue at a glance for all of your campaigns. Then if one isn't performing as expected, you can adjust it until it does.
A website audit tool can help make sure your site doesn't have errors like broken links or products with no prices. Facebook Ads has Insights to show you which ads are bringing in visitors. You can even use a tool like Hotjar that shows you an image snapshot of each page and where on the page people keep their mouse the most and what links are most clicked.
We go over these and other data-driven approaches in more detail in our article Is my website performance working for me?
Ready to get started to sell online?
It's a bit of work up front, but having the option to sell products online can open you up to a whole new segment of the market! So once you've looked through everything you need to do to sell online, then what?
First, make sure you have a business plan, especially if you're a new business that doesn't have a customer base. We cover some other startup items in our article Selling online – Where to Start with eCommerce? From there, if you want to build the site on your own, follow the instructions from your chosen e-commerce platform. Most of them have guided tutorials to help you get started and walk you through the essentials. If you want to have a professional build a site, many marketing agencies combine website development and ongoing marketing in one place. Our article How to choose the right marketing agency for your business can help you see what to look for when searching for your team.
If you're unsure about doing any of these steps on your own or would rather have an experienced team handle getting your store ready to sell products online for you, we can help. We recommend starting out with our guided digital marketing roadmap where we cover your goals and help you make a plan on how to achieve them. We've helped several stores get online, from small local businesses with a few products to working with stores with massive inventories that ship throughout the country. And we can help you too! Many of our e-commerce stores have seen their sales increase over 100% in a year.
Selling online takes planning, time, effort, and funds to get started. But it helps you bring in new customers, increase sales, and provide more value to your website visitors.